A brief but meaningful, explaining, interesting and exploring interview with the man behind the brand Homecore Paris.
Rumour has it that Homecore was born on the skate rink. Is this true? Do you still skate?
I tried skating at an early age, but without success. Actually, Homecore was born from hip-hop culture, which is ultimately close when you think about the Beastie Boys, for example, who were hip-hop and skate icons.
So I did not skate. But I painted, and in a way I still do. The only difference is the surface, since now I use clothing. I consider Homecore clothing as 'potentially moving canvases', that can bring harmony to everyday life.
Where does the name Homecore come from? Is there maybe a relation to hardcore music?
When we created the brand it originated from hip-hop, but hip-hop was very 'American' and we wanted to express the fact that we also could make something strong from home. HOME for France, and CORE for strength. With time I went and looked for the dictionary definitions and interestingly enough, what I found was very close to what HOMECORE has evolved to:
HOME [hohm], noun: the place in which one's affections and comfort are centered.
CORE [kawr/kohr], noun: the central, innermost, most essential part of something. Provides strength and balance.
For all our Homecore-loving customers, what's the meaning of the red stitching on the back of many of the Homecore items?
After a while hip-hop was 'taken over' by the system and started to be transformed into a 'commercial machine'. There was a long period of time, around the beginning of the 2000's, where I felt the need to give meaning to the brand. I wanted a different significance than what hip-hop was meaning at the time, and I wanted a closer meaning to what the start of hip-hop had brought into my life; the 'peace love unity having fun'-hip-hop I mean.
So during 7 years I went on a quest that transformed into a mission to change the world. In fact, I tried to materialize one of the sentences I often use on labels: 'to be in harmony with oneself and the world around us'. I was once asked how to really do it and I decided I would try.
Not knowing where to start, I took the phrase literally and searched for its core meaning. What is oneself? What is the world around us? How can we create harmony in between? So, I started looking for a 'oneself' that would be the same for everybody and we could put that 'oneself' in a dimension that would also be the same for everybody. By doing so we could create a neutral dimension where we could meet in a pure way and the world would be in better harmony.
After a long time of thinking, one day I was in my apartment reflecting on biology classes, particularly human anatomy, and I could clearly visualize the anatomy boards, you know the ones with the muscles, the skeleton and the nervous system. At that moment, I visualized it inside of me and by doing so, I found my answer. The first 'oneself' that is equal for everybody is the skeleton, I was very happy about this discovery.
For the world around us? Literally the world around us is the world around us at the time we are around it, so at that time there was the floor, the table, the chair and the sofa. How do you create harmony in between them? Just connect them with pure intention, so I went into some kind of a trance, shutting my brain off and just letting my body flow with the floor, climb onto the chair and the table and slide and twist and just be there. It was incredible. After that, I was on a mission: RELAX/TALK/ACT.  I was certain that we could change the world by just closing our brains and opening our bodies, going back to our animal instinct for a transitional moment, then starting to talk, and finally act to change the world. I tried this for many years with everybody around me, knowingly or not but I was such a purist that I would not explain anything to anyone prior to connecting skeleton to skeleton, I did not want to be the guru of the new way. I believed that by connecting each other center to center, some general elevation of the minds could happen by just realizing that in fact we are all the same and there should be no place for competition between human beings.
I tried this hard way for a long time but did not succeed.
After some time, I decided I would use clothing to talk about these 'discoveries'. So I made the inside appear outside, 'tagging' both aesthetically and meaningfully interesting details on the clothing, like the red stitching on the spine or the shoulder cut moved on the collarbone (Rodger tees). Lately I've discovered new recipes to talk about appearances often being misleading, all the reversible pieces embody this reflection. I even invented a less intrusive way of connecting, a large elastic band in which a few people can be standing and by going backwards they stretch it and it holds them in the air, in the momentandin their center, all connected to one another. I named it the GUMJO, the same name I had given to the practice of shutting the brain and connecting center to center.
I could go on writing many more lines about this but I will leave it to the readers freedom to look for more 'inside out' details…

Through the years we noticed that many items by Homecore are named after people's names. Are those names made up? Or are the items named after people you know?
I dedicate items to the people I feel like-minded to, the autumn-winter 2020 has a KRIS jacket (with a K because we had already used CRIS on a spring-summer 2012 jacket).
The world of fashion has changed to something we call 'fast fashion', which made clothes a kind of disposal. What is your opinion on this subject and how does Homecore compare to this (thinking about upcycling, durability and humanity)?
I think and really hope that the recent events we have gone through have shown us how superficiality and overconsuming does not provide any kind of happiness. At Homecore, since a long time we have integrated the need for taking care of the planet and the human beings. The whole creative and production process is aimed towards improving every aspect we can.
We upcycle fabrics when we can, we use organic fabrics when we can, we use recycled fabrics when we can and we manufacture mostly in Portugal in small family owned factories. And most of all we try to design clothing that will be loved for many years.
When COVID-19 is over and our customers are allowed to go to Paris again, which stores, except for the Homecore stores of course, would you recommend going to?
For clothing:
Anatomica: conservateur
Buly: new-age old school toiletry and cosmetics
Brut: vintage
Le Vif Vintage: vintage
Beige Habilleur: new school conservateur
For meditation you should go to Les Serres D'Hauteuil: a botanic garden.
Shopping makes you hungry. Which restaurants would you recommend us and our customers after a day in the city? Any good natural wine bars in Paris?
Vivant: French + Natural wine
Racine: French + Natural wine
Septime: French
Cheval d'Or: Japanese + Natural wine
Baratin: French Bistronomie + Natural wine bar
Area Café: Brazilo Libanese cuisine
Mulino Mulé: Sicilian cuisine
Adome: Pizza
Circus Bakery: Cakes and bread
Fermentation Generale: Kimchi and bakery
Bambino: Pizza
Many thanks c r i s-team for the possibility of sharing the backstory of Homecore.
Peace and love on earth!
Alexandre Guarneri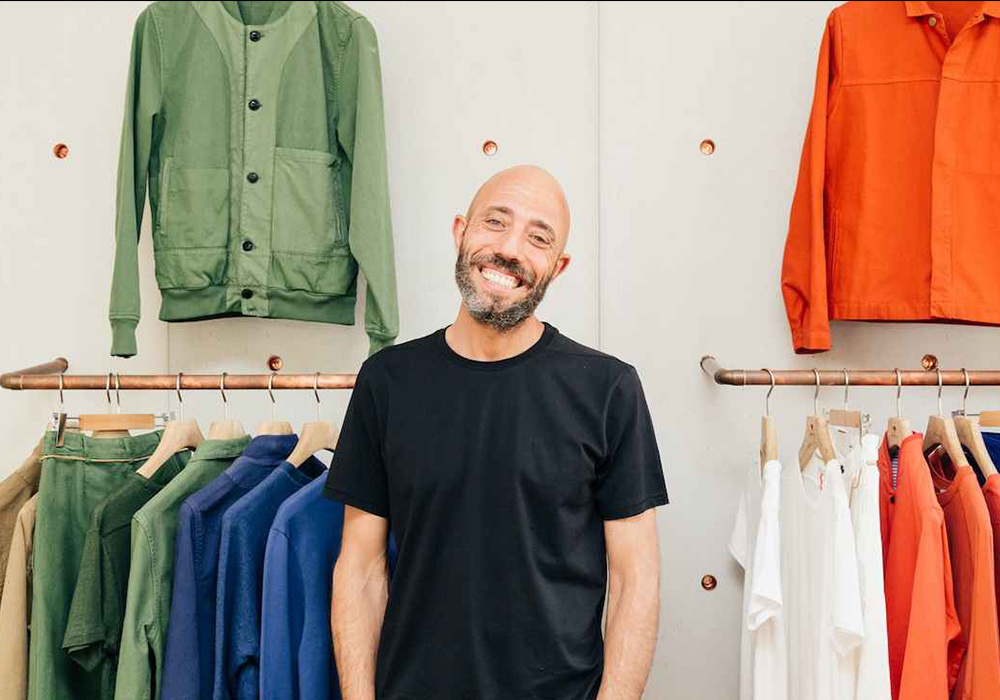 Alexandre standing in his smart living- and showroom